2013.09.30 Mon
Janelle Monae: The ArchAndrogyne File
Dear reader:
As I wrote in the liner notes of
The Electric Lady
, Janelle Monae is no longer here at the Palace of the Dogs Arts Asylum. This is a follow-up report on the mysterious disappearance of Ms. Monae.
This morning when one of our nurses was preparing a room that had belonged to Ms. Monae for a new patient (the room had been kept as it was since the disappearance), she found an interesting thing there. When she took off a huge poster of Colonel Sanders from the wall (Ms. Monae had a great interest in him and had his poster on the wall. She didn't let nobody touch it), there appeared a pit. You might imagine that Ms. Monae escaped through it just like Tim Robbins, but it's imposible. Because the pit has a depth of only 5 inches, and it's rather like a hidden safe behind a picture frame (which can be seen in movies like
Le Cercle Rouge
). In this square pit assumably dug by Ms. Monae, there was a scrapbook.
The secret scrapbook entitled "The ArchAndrogyne File" is a collection of portraits of various persons mostly from the 20th century, which is all quite bewildering, given the fact that not only their sexual identity is so ambiguous but also it reveals that many androgynes like them have existed in the history. On its cover, you see two sentences written as follows:
YOU'VE GOT YOUR MOTHER IN A WHIRL
SHE'S NOT SURE IF YOU'RE A BOY OR A GIRL
You can imagine my amazement when I read these words.
I do know, or rather strongly believe, that in this file one can find a key to the mysteries of Janelle Monae, or Cindy Mayweather - where she came from, what got her into trouble, what she is fighting for...etc etc etc. So after careful thought, I have decided to release this file ASAWP (As Soon As Wondafully Possible) in accordance with the Inspiration Information Act, as usual.
Her enthusiasm and devotion to Colonel Sanders aside, is Janelle Monae queer? Is she a direct descendant of those androgynes? Is there truly a world called Metropolis waiting in the future? A world full of
clones of Colonel Sanders
? Alien vs. Predator? Does Cindy Mayweather dream of electric chicken?
And most importantly, if Janelle Monae is the ArchAndrogyne...will she tour in Japan this time?
One can only hope....
Sincerely,
Max Stellings
Vice Chancellor
The Palace of the Dogs Arts Asylum
September 30, 2013
---
Marlene Dietrich
Morocco
, 1930, dir. Josef von Sternberg
Mary Pickford
Kiki
, 1931, dir. Sam Taylor
Anna May Wong
1932, pic. Carl Van Vechten
Josephine Baker
c.1933
Renate Muller
Viktor und Viktoria
, 1933, dir. Reinhold Schunzel
Jessie Matthews
First a Girl
, 1935, dir. Victor Saville
Frances Langford
Broadway Melody of 1936
, 1935, dir. Roy Del Ruth, W.S. Van Dyke
Eleanor Powell
with Buddy Ebsen, George Murphy
Broadway Melody of 1938
, 1937, dir. Roy Del Ruth
Vera-Ellen
with Fred Astaire
Three Little Words
, 1950, dir. Richard Thorpe
Doris Day
Lullaby of Broadway
, 1951, dir. David Butler
Judy Garland
Summer Stock
, 1950, dir. Charles Walters
Liza Minnelli
The Act
, 1977, dir. Martin Scorsese
Anne Reinking
All That Jazz
, 1979, dir. Bob Fosse
Julie Andrews
Victor Victoria
, 1982, dir. Blake Edwards
Anita Berber
Dr. Mabuse, der Spieler
, 1922, dir. Fritz Lang
Ossi Oswalda
with Curt Goetz
Ich mochte kein Mann sein
, 1918, dir. Ernst Lubitsch
Gloria Swanson
with Bobby Vernon
Danger Girl
, 1916, dir. Clarence G. Badger
Gina Palerme
1915, pic. E.O. Hoppe
Peggy Pearce
c.1917, pic. Witzel Studio
Leatrice Joy
The Clinging Vine
, 1926, dir. Paul Sloane
Louise Brooks
1927, pic. Eugene Robert Richee
Louise Brooks
Beggars of Life
, 1928, dir. William A. Wellman
Lotte Lenya
1928, pic. Lotte Jacobi
Anita Loos
1932, pic. Clarence Sinclair Bull
Myrna Loy
The Thin Man
, 1934, dir. W.S. Van Dyke
Jessie Matthews
First a Girl
, 1935, dir. Victor Saville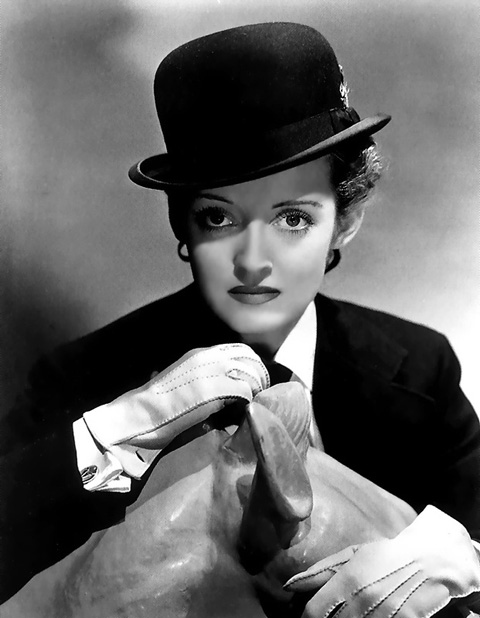 Bette Davis
Dark Victory
, 1939, dir. Edmund Goulding
Bette Davis
Old Acquaintance
, 1943, dir. Vincent Sherman
Ingrid Bergman
Notorious
, 1946, Alfred Hitchcock
Johanna von Koczian
Viktor und Viktoria
, 1957, dir. Karl Anton
Annemarie Schwarzenbach
1930s, pic. Marianne Breslauer
Marianne Breslauer
1930s, self-portrait
Clara Bow
Wings
, 1927, dir. William A. Wellman
Eleanor Powell
Rosalie
, 1937, dir. W.S. Van Dyke
Joan Fontiane
This Above All
, 1942, dir. Anatole Litvak
Marilyn Monroe
1954, visiting Korea for US troops
Katharine Hepburn
1955, at the Hotel Australia, Sydney
Katharine Hepburn
Sylvia Scarlett
, 1935, dir. George Cukor
Anouk Aimee
c.1960, pic. Sam Levin
Jean Seberg
A Bout de Souffle
, 1960, dir. Jean-Luc Godard
Mia Farrow
1969, pic. David Kennerly
Brigitte Bardot
1971, pic. Terry O'Neill
Yves Saint Laurent's
Le Smoking
Tuxedo styles for women
1966
Catherine Deneuve
in YSL
Le Smoking
with Yves Saint Laurent
1966
Francoise Hardy
in YSL
Le Smoking
1966, pic. Roger Viollet
Vibeke Knudsen
in YSL
Le Smoking
1975, pic. Helmut Newton
Charlotte Rampling
The Night Porter
, 1974, dir. Liliana Cavani
Jane Birkin
Je T'aime Moi Non Plus
, 1976, dir. Serge Gainsbourg
Diane Keaton
Annie Hall
, 1977, dir. Woody Allen
Patti Smith
1975, pic. Robert Mapplethorpe
Lizzy Mercier Descloux
Pauline Black
c.1980
Grace Jones
1981, pic. Jean-Paul Goude
Annie Lennox
1982
Sade Adu
1988, pic. Matthew Rolston
Madonna
1986, pic. Matthew Rolston
A homage to Marlene Dietrich
K.D. Lang
Drag
, 1997, pic. Albert Sanchez
A homage to Marlene Dietrich (with a cigarette)
Marlene Dietrich
1930
Madonna
2002, pic. Craig McDean
Greta Garbo
Mata Hari
, 1931, dir. George Fitzmaurice
pic. Clarence Sinclair Bull
Ute Lemper
1992, pic. Guido Harari
Sigourney Weaver
1983, pic. Helmut Newton
Hilary Swank
2000, pic. Herb Ritts
Cate Blanchett
I'm Not There
, 2007, dir. Todd Haynes
Diane Kruger
2010, pic. Karl Lagerfeld
Milla Jovovich
Marella spring 2012 campaign
pic. Inez & Vinoodh
Karin Van Leyden
1925, pic. Man Ray
Tilda Swinton
2011, pic. Peter Hapak
Jourdan Dunn
2011, pic. Alasdair McLellan
Arizona Muse
2012, pic. Richard Bush
Jourdan Dunn
2012, pic. Richard Bush
Saskia de Brauw
Yves Saint Laurent spring 2013 campaign
pic. Hedi Slimane
Florence Welch
Sweet Nothing
, 2012, dir. Vincent Haycock
SN
2012
CAUTION
Jourdan Dunn
2013, pic. Benny Horne
Beyonce
2011, pic. Francesco Carrozzini
Kate Moss
2006, pic. Mert & Marcus
MDNA
June 18, 2013
The premiere of the MDNA tour film
at the Paris Theater in NYC
M
arlene
D
ietrich
N
ever
A
ges
---The End of the File---
Janelle Monae: A Life in Tuxedo
The future has already begun (Janelle Monae Index)
Janelle Monae──ジャネルの快適タキシード生活
未来はすでに始まっている(ジャネル・モネイ関連記事目録)
| Diva Legends | 23:50 | TOP↑