2013.05.10 Fri
Twin Danger Plays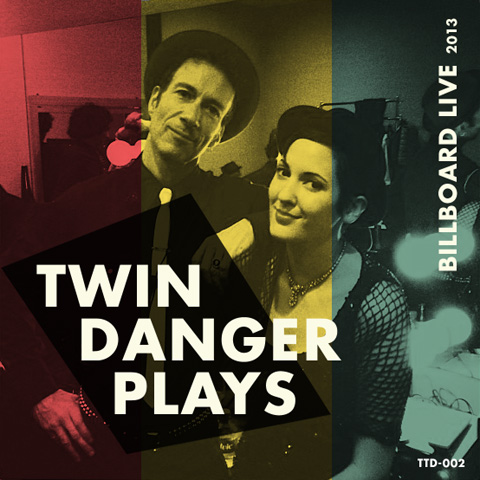 TWIN DANGER PLAYS
2CDR (Limited 1 copy): Thank Twin Danger Records TTD-002, 10 May 2013
Pointless Satisfaction
/
In Many Ways
/
Past Yet Untold
/
I'm Shakin'
/
When It Counts
/
Coldest Kind Of Heart
/
My Baby Just Cares For Me
/
Everything
/
The Way You Look Tonight
/
Sailor
/
Just Because
/
I Love Loving You
/
Take It From My Eyes
/
Is It A Crime
/
Save It
/
I Ain't Drunk


Recorded live at Billboard Live Tokyo
DISC 1: April 15, 2013 (2nd show)
DISC 2: April 16, 2013 (2nd show)
Personnel: Vanessa Bley (vocals, guitar on "Pointless Satisfaction" and "Sailor", keyboards on "Everything" and "Take It From My Eyes"), Stuart Matthewman (tenor sax, clarinet on "Everything", guitar on "Coldest Kind Of Heart", backing vocals), Robert Granata (guitar, keyboards on "When It Counts"), Anthony Marchesi (keyboards, backing vocals), Jamie Alegre (drums), Matt Basile (bass), Omar Little (trumpet)

Promotional Use Only

Note: Thank Twin Danger Records has nothing to do with Twin Danger, nor with Thank Frank Records
---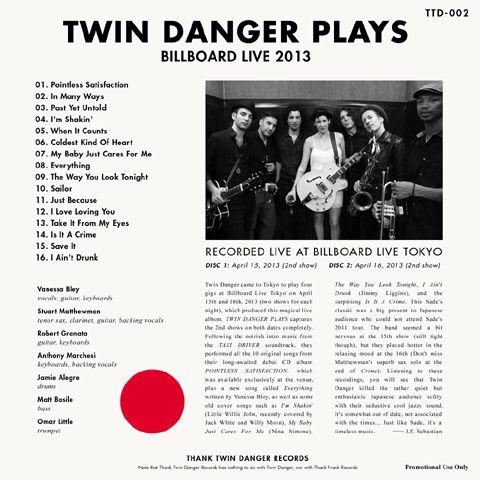 Back cover (click to enlarge)
ORIGINAL LINER NOTES:
Twin Danger came to Tokyo to play four gigs at Billboard Live Tokyo on April 15th and 16th, 2013 (two shows for each night), which produced this magical live album.
TWIN DANGER PLAYS
captures the 2nd shows on both dates completely. Following the noirish intro music from the
TAXI DRIVER
soundtrack, they performed all the 10 original songs from their long-awaited debut CD album
POINTLESS SATISFACTION
, which was available exclusively at the venue, plus a new song called
Everything
written by Vanessa Bley, as well as some old cover songs such as
I'm Shakin'
(Little Willie John, recently covered by Jack White and Willy Moon),
My Baby Just Cares For Me
(Nina Simone),
The Way You Look Tonight
,
I Ain't Drunk
(Jimmy Liggins), and the surprising
Is It A Crime
. This Sade's classic was a big present to Japanese audience who could not attend Sade's 2011 tour. The band seemed a bit nervous at the 15th show (still tight though), but they played hotter in the relaxing mood at the 16th (Don't miss Matthewman's superb sax solo at the end of
Crime
). Listening to these recordings, you will see that Twin Danger killed the rather quiet but enthusiastic Japanese audience softly with their seductive cool jazzy sound. It's somewhat out of date, not associated with the times... Just like Sade, it's a timeless music. - J.F. Sebastian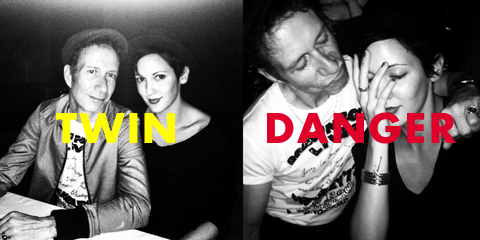 Inside the cover
TWIN DANGER PLAYS comes in a gatefold paper sleeve. You can see two nice pictures of Vanessa and Stuart on the inside. This release is very limited (actually 1 copy) but I was lucky enough to get it, so I'd like to share it with you. I don't have anything to do with Thank Twin Danger Records, by the way.
More about these shows:
Twin Danger @ Billboard Live TOKYO 2013